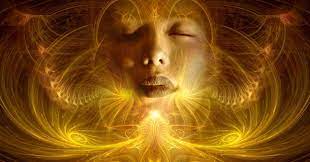 My students often talk about "waiting for inspiration."
They're right. There's nothing better than a thunderbolt from the blue—the perfect idea, the fully formed story, the image of the painting that drops into your mind. You can't wait to get it down. The rush carries you through a creative session. An hour. A whole day. Maybe a week. Very exciting.
But after a while, you feel different. The rush has trickled away. The inspiration has faded. You look at what you produced. Maybe you like it, maybe not. You decide to keep going, but that rush of adrenalin does not return. The work feels like drudgery. You decide to wait until inspiration strikes again.
A common misconception is that creativity is separate from you. A visitation. A blessing. It can feel that way, and those sudden flashes may be a wake-up call. Maybe your Creative Self is trying to shake you out of your routine.
I had those experiences like that when I was working on my first novel. Ideas, characters, and scenes would pop into my mind when I was at my job or walking on the beach. I would rush home to write them down. When I was inspired, I wrote and wrote. But when the excitement faded, I avoided my desk, fearful of the practical aspects of writing a novel, the hard work of slogging through the difficult parts, learning how to make the parts fit together.
Being a writer is more than inspiration. There is re-writing, editing, polishing and research. The more I work, the more my Creative Self whispers in my ear. She seems to like constancy and commitment. She likes that I am keeping faith by practicing, learning, and preparing.
Commitment
Committing to a regular work schedule tells the universe you're serious about your creative work. Make your schedule manageable. A one-hour session three times a week is plenty to start. Make it a habit and notice how it helps deal with any resistance you encounter. After you feel more confident about your commitment, you can re-visit your schedule.
Loosening the Chains
Measuring productivity can be helpful and motivating. When I (reluctantly) started counting the number of words I produced in each writing session, my productivity skyrocketed. I was amazed. Writing produced more writing. I learned to write faster without editing or second-guessing myself. The pages piled up. That method still works. First draft fast and furious. Second draft slower, third draft slower yet.
Some writers have rituals for how to begin their creative time. They light a candle or say a prayer to invoke the Muse. Some need to do the dishes before they can start, or walk the dog, or make coffee for the rest of the family. These are not time wasters, but preparatory steps.
Down time is not unproductive. Artists need time for their ideas to percolate. They spend time noticing how evenly the grass is growing and how the shadows of clouds move across a landscape. They notice the faint tracks where a snake slid down a sand dune, a lizard nearly invisible on a rock, how the elderly man next door waits every morning at his mailbox for the postman. Just out of sight, the wheels are turning, the juices flowing and moving, about to burst into consciousness.
As creatives, we set our own boundaries. We define our goals and how to reach them. We find our rhythm. We choose the time of day when we are most productive. We choose our priorities.
We respect inspiration but don't wait around for it to show up. We commit and do our work, and when inspiration does tap us on the shoulder, it's that much sweeter.
My next writing class, From Inspiration to Publication, starts on June 7, 4-6 PM. Live on Zoom. For anyone with an idea.