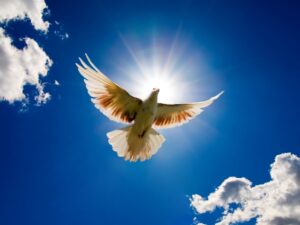 My next nonfiction book has a working title of Your Creative Self is Waiting for You. I am writing it for readers who want to access their creativity in any form. I believe we are all creative. Even those who protest, "Oh, not me, I have no talent."
We can't all be famous painters and writers, but everyone can express themselves. Taking a few small steps to give form to our thoughts, images, yearnings, and ideals is empowering.
Writing in a journal, doodling with a pencil, coloring images in an adult coloring book, re-arranging a room, setting a beautiful dinner table, taking time to teach a child—all are creative acts that feed our souls.
With the humanitarian tragedy unfolding in Europe, my stress level has gone up. I wondered if writing about creativity is appropriate given the turmoil in the world. But then I remembered how writing eases my tension. Writing stories, especially, feels good.
And I remembered Paul Levy, a wise man who teaches about the negative effects of trauma in the mind, what he calls wetiko. Wetiko is a Native American term referring to the negative mental programming, or mind virus, that causes selfishness, insatiable greed, and the unfeeling wielding of power over others. Levy offers an answer to the question many are asking. What is happening to our world?
A few months ago, I took an online course from Levy. It was profound and inspiring. He said that we all suffer to some degree from the effects of wetiko  It can take the form of the inner critic who judges and criticizes, often urging us to act against our own interests. The good news is that one way to counteract it is with creative acts. So the time spent in the writing room, the studio, the workshop is not wasted. We can free ourselves by opening ourselves.
We are all stressed and anxious. The pandemic is winding down. But now we have inflation, war, cultural polarization, and the juxtaposition of truth and lies which is truly terrifying. All my life, I've struggled with discerning what's true for me. People dealing with the effects of early trauma are often confused about how much to trust their feelings and intuition. I have used many methods to separate the easy messages of the common wisdom from my truth. Opening the channel to the inner world works. That's why so many people are journaling. Writing memoirs. Taking up painting. Intuitively, they want the different answers that lie within.
So I write about the inner self, the Creative Self, the part that pain, disappointment, grief, loss, and illness have not damaged. The part that reminds us we are more than our experiences. We are creative beings who can change our thoughts. We change how we perceive our lives by playing, making music and art, by writing, and by opening our hearts to people, animals, and plants.
Being creative is not a panacea, and won't solve the world's problems, but accessing our creative energy brings us closer to life as it is supposed to be. It will relieve stress, release endorphins, and help distance us from the inner critic. When we play with the Creative Self, we remember who we are.
So don't say, I'm not creative. Don't listen to the critic who judges you not good enough to write/paint/build/compose. You're exactly good enough, right now, to start. And that's all it takes.