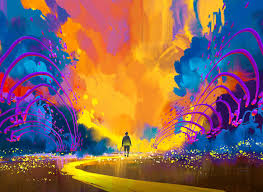 "But I'm just not creative."
Sad words, filled with regret, uttered as an apology, sometimes in a whisper. I hear them from people in my classes, from people in bookstores and art galleries who are mentally comparing themselves to the featured writers and artists.
It's a common belief. Creativity is for THEM, not for ME.
The problem is, IT IS NOT TRUE.
Creativity is as natural as the desire to communicate, to be safe, to be part of a community, to learn, grow and love. It's our nature, written into our genes.
Every day, we create:
Our reactions to the events of life
Ways to spend our time
Where we live
Our job or career
How to spend our leisure time
Ways of being of service
How to have fun
With our intelligence and intuition, we are constantly choosing. This or that. Am I happy or sad about what just happened? Do I argue with my neighbor about his barking dog or try to understand his point of view?
We have more choices than we give ourselves credit for. Most of the time we create unconsciously, using patterns of thought and beliefs that are familiar. We learned them in the past and use them so often they become habits.
If your thought is, I don't have time for creative work, then daily tasks will multiply. You'll get so busy you'll be grateful you didn't start that painting, song, or story.
If you think, I can start my creative work even though I'm busy, you'll notice how to change your schedule, what activities to scale back, and resources that can help.
By noticing our habitual patterns, we can change outmoded beliefs into new and positive ones that support health, happiness, and creativity.
First, comes the thought.
Do you have a thought or an image about a creative project you'd like to work on?
Thought is the first step in the creative process. Say YES to the thought.
Second, comes the act.
We take steps to transform the thought into physical reality.
Write, draw, design, sculpt, sing, dance, paint. All the physical acts of an artist are accomplished with human hands, voices, and bodies. We start small and learn as we go.
The creative drive is inborn. We learn how to make our visions physical.
All creative acts have one thing in common: the first attempt to bring alive a thought or vision will fall short. The finished product will not match the perfection of the imagination.
If that happens, congratulate yourself! Just like every other creator, you have made a start! Now you have something to work with. To shape, form, edit, and revise so each iteration comes closer to the image in your mind.
Creative Expression Feeds the Soul
Not everyone can write a best seller or paint a breathtaking landscape, but everyone—including you!—can express themselves. People who express themselves creatively are happier, healthier, and more satisfied. It doesn't matter if their efforts bring financial success or recognition. Simply exercising the creative muscle makes the difference.
Taking a break from the hectic demands of daily life allows us to slow down and refresh ourselves. The imagination exists to be used, for our pleasure, and for the benefit of others. If you don't have time for your creative pursuits, consider how you can gain some time.
Think about it for a moment.
The obstacles in your way are not immovable. Your Creative Self already knows how to improve your life. Why not take a few minutes and listen to what it has to say?